Scouting in St Thomas
Records indicate that scouting in St Thomas began in 1910 when a warrant for Assistant Scout Master was issued to W Farraday who lived on Wellington Road. F.S.H Marles from Cowick was appointed as chaplain in 1911 and R.G. Hoare from Manor Road was appointed as Assistant Scout Master in 1913.
In 1916 the 3rd Exeter (1st St Thomas) Scout Group was led by F.SH. Marles as Scout Master with 35 scouts.
In February 1925 the 10th Exeter (St Thomas) Scout Group was registered with Headquarters and in 1931 they opened a brand new scout headquarters which featured in The Scouter which was the national scouting magazine at the time. This group was registered as closing in 1954.
6th Exeter (John Stocker)  Scout Group
The 6th Exeter (John Stocker) Scout Group was first registered as a group on the 23rd October 1953.
The original group name was 6th Exeter (John Stocker) Scout Group as the Cub and Scout sections met at John Stocker Middle School. In the late sixties the current Scout HQ was built with the help of parents and supporters, and the group then moved to these premises.
The ground where the HQ was built is leased from Exeter City Council.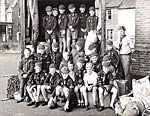 You can see some of our cubs parade down Exeter High Street around 1965 in a video on the Exeter Memories website and there is a photograph of the cubs from around the same time period (left) from Andre Howe
6th Exeter (St Thomas) Scout Group
In 1997 it was decided to change the name to 6th Exeter (St. Thomas) Scout Group as this reflected area where most of our members come from. This was formally registered on 12 July 1997.
In 2013 the 6th Exeter Scout Group celebrated our 60th birthday